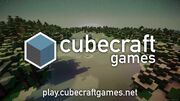 Cubecraft is a server on Minecraft PC. The website is cubecraft.net. The IP is play.cubecraftgames.net. The owners of Cubecraft are rubik_cube_man, Marco Slater, and johncoles. Cubecraft is available for players in 1.8+.
Games
Egg Wars
Lucky Islands
Tower Defence
Minerware
Blockwars
Blockband
Freebuild
Sentinel
Sentinel is the Cubecraft anti-cheat, that detects illegal client modifications, added on March 6, 2017. Sentinel detects network data, and if there are abnormal patterns, it will ban you. With Sentinel, if you butterfly click, that is, using multiple fingers to click the same button quickly over and over again, Sentinel will detect it as an offence and you will be banned.
Allowed Plugins
Optifine
Labymod
ArmorStatusHUD
Damage Indicator
Minimap
5zig Mod
TabbyChat
Replay Mod
MorePlayerModels
Mo'Bends
Twitch Chat Integration
Ad blocker interference detected!
Wikia is a free-to-use site that makes money from advertising. We have a modified experience for viewers using ad blockers

Wikia is not accessible if you've made further modifications. Remove the custom ad blocker rule(s) and the page will load as expected.